Vertical Rollerskating > People > Irene Ching
---
Irene Ching
Skate Bio
Text provided in February 2002 by Irene Ching, Vertical Rollerskater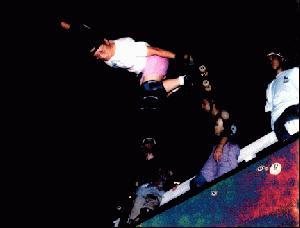 Rider: Irene Ching
Location: Brooklyn Bridge
NYC
Photographer: Jay Kusnetz
Date: 1995
My first skating was done on ice at age 9, thanks to my brother, Ernie. Soon after, I begged my Pops to get me rollerskates from the 5 & 10 store. These were steel clamp-ons with loose ball bearings and a skate key to adjust them to fit your shoes. At 18, I worked in a sporting goods store with a skateboard department and began skateboarding. Red Kryptos had just come out and I started rollerskating again. I rode the streets of NYC for transportation and leisure. I'd rollerskate my son in his stroller and the dog to the park, where he'd pull us around at full speed. Went out (side-stance) bombing hills, the slalom course by Tavern on the Green, and the S-hill up on 110 Street in Central Park. Skitching rides from cars, trucks or cabs to spots around the city to jump stairs and gaps, roller-disco was at it's height.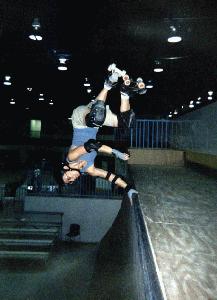 Rider: Irene Ching
Location: RexPlex NJ
Photographer Ray Mendex
Date: 2000
Trick: Invert
My first skatepark experience was Skateboard City in Staten Island, circa 1979. This place was all see-through fiberglass on metal frames. They had a bowl, halfpipe and street course. This was the genesis of my addiction for transition and vertical walls ... little did I know ... a life-long journey. Here I tried skateboarding and met some rollerskaters, who made me realize that I could probably rollerskate these ramps with more success. Three out of 4 of them, side-surfed (what we used to call side-stance or spider-style). I started out parallel, even though I had side-surfed on street. Shortly, I began side-stance at the skatepark, never going back. I think it stuck mainly because it gives you a true frontside and backside (blindside). It also feels more balanced and mimics board sports.
Rider: Irene Ching
Location: Greenport Skatepark
Long Island
Photographer: Bob Clinch
Date: 1999
I was strongly influenced by skateboarders and other side-surfing rollerskaters like Fred Blood, Duke Rennie and Jimi Scott, as well as, Thrasher and Skateboarder Magazine. Special spots over the years: Harlem and Brooklyn Banks, Cherry Hill, The Barn, The Playground, Badlands, Marina del Rey, Skateboard Madness, Grand Slam, Mullaly, Riverside, Casino, Owl's Head, Skater Island and Woodward. Being a born and raised Lower East Side New Yorker who likes to skate vert, I drove for hours and took all modes of transport to get to it. Along the way, I've met many friends, had lotsa fun, road trippin' to events, contests and parties.  FAQ: Do you rollerblade? Yes, but not often and not seriously. On street, they're okay. On ramps I need speed, noise and parts that don't break. Metal, not plastic and boots that fit and flex. Suspension of adjustable trucks that turn and their stability (side-surfing on inline skates tend to slip out). Rollerskates are built to last and it's nice to still be underground ... to be true to yourself.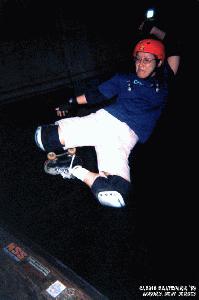 Rider: Irene Ching. Location: Casino Skatepark
Asbury Park
NJ
Photographer: Ryna Tep
Date: 1999
Most young kids don't really know what to make of rollerskates, but their parents are excited to see them. It's cool, after all these years, I still love it ... the feeling, the sounds, the violence of it sometimes, the satisfaction, the challenge and the rush. The internet has been a great tool for getting all of us with this common interest together. I've always known there were other rollerskaters out there like me, but just like female skaters, we are scattered all over. With all the hype, skating has seen an evolution like never before. The level of expertise keeps rising and the parks, especially all the new concrete stuff, just keeps getting better and better. Perhaps, we'll have a new generation of rollerskaters who are as passionate as we are, doing what we do. My Mom is still waiting for me to outgrow it. I doubt I ever will.
Tidbits
Skateboarder, snowboarder since 1988, and no I don't ski or surf. Photographer, graphic artist, skate and snowboard instructor. Competed in Women's Vert Inline Contests: 1993-1995 (placing 1st and 2nd side-surfing inline skates). Demos and shows for skate shops, fast food chains, parties, schools, county fairs and trade shows.
Specs
 

Name

Irene Ching

Age

40

Phone

(646) 831-5881

Email

Skates

Mens 5/Ladies size 7 - Riedell Leather Speed Boot, Variflex baseplates, ACS 580 trucks, Red China Bones, 60mm 98A Flip wheels.

Duds

Medium

Cranium

Medium

Holler (Shout Outs)

5BoroNYC, All Girl Skate Jam, Andy Kessler, Rob @ Casino, RexPlex, Doc @ Madness, Bruna @ Playground

Irene's skates

---

Last Update: