Vertical Rollerskating > People > Joe 90
---
Joe 90
Joe is a member of the small but healthy roller skating scene down under where the kangaroos roam. He has been skating for a long time and still rips hard on his quite unique roller skates. The photos are published with permission and copyrighted by their respective photographers. Joe answered the questions in March 2010
Interview
When did you get started with roller skating? What got your interest in trying roller skates? Did you immediately start with ramp skating or where are your origins?

OK. 1974 a family friend gave us a couple of pairs of old strap on rollerskates, one pair steel wheeled and the other rubber. My brother Jomby pulled the rubber wheeled ones apart and made us a skateboard each and it was hook line and sinker from day one. We skated down the hill we lived on for a year or so till I got my first bought one, a mass produced purple plastic "Pro/Am" and a Cooper helmet, which I skated every day and slept with every night. In 1978 we moved to Oz and pretty soon hooked up with Ludi, a local legend and one of the best mates a bloke could have. Ludi was probably the first vert rollerskaters in Oz and within a couple of months of us moving into our first house here we were building our first real ramp, 9' trany with 1' of vert, no flat and 14' odd the other end, a classic j ramp. Jomby was grinding in days but I was a little slower to learn was really warming to this whole rollerskate thing. Within 6 months to a year the ramp received 8' of flat and I got Ludi's old skates as he picked up a sponsor and a very cool set of skates. The very first time I rode rollerskates was on that ramp, and did so for a few months before I found out I could actually ride them on flat. I still skateboarded all the time as well. So many rad memories of that era, skating with Jomby, Ludi and my good mate Ben, all my biggest influences.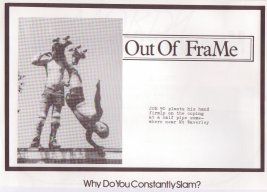 Rider: Joe90
Spot: ramp near Waverly
Trick: Frontside Handplant
Photographer: ?

I'd rather have started skating back in those times myself! Only it was 10 years later ... I can imagine the gang having fun! How did your first ramp roller skates look like? Off the shelf or already custom built? How well did your first ramp skates work? Describe the kinds of sessions you had back then.

Those first skates (aside from the strap on crappers) were rental boots and plates with 4" Makaha proIV front trucks (from the first board I bought with my own money)and Edwards 4.5" (from my brother)on the back and Bones cubics all round on Azf stainless steels. They could have been the worst skates on the planet and I would'nt have cared, I was just blown away with skating and we sessioned every second we could, hitching rides all over just to skate different trany. Ben and I would start night sessions on our ramp with a salute as the Devo "corperate anthem" would blast out of the ghetto blaster and then it would be on to the sounds of Crass, UK subs, X-ray Spex and the like till the neigbours complained or we were too knackered to keep rolling. My board at the time was a Z pig with sixtrackers and Alva naturals. Devo, Punk and skating, the three main food groups.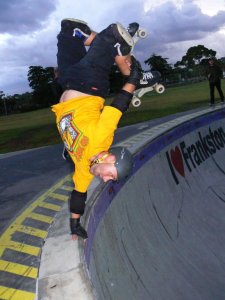 Rider: Joe90
Spot: Frankston Bowl
Event: MOSS Jam 09
Trick: Invert
Photographer: Beanstalk
Where were your favorite spots in those days? What was so special about them? How did your skates evolve to your current setup? What are the key features of your current setup and how do they affect your skating?
There were a couple of backyard ramps about the place that we would skate as well as our ramp, was also a ramp behind a youth club in Springvale that bred some of the radest skaters in OZ and we rode that quite a bit too, usually stopping along the way to skate a couple of silos on their side, out the back of a steel works factory. We also had a few very nasty concrete bowls and parks built by non skaters, Doveton and Ringwood bowls and West Melton and Heidelberg skateparks, West Melton being the best of the bunch. Collingwood skate City was pure heaven, 10ish foot, perfect trany and surface, sitting on the balcony of an old cinema with the ground floor being a rollerskate rink. There was a legendary spot called the fish pond that wasn't much chop for rollerskates but was a blast on a board. During that era someone discovered 18' sewerage pipes that had been laid out Melton way which copped a fair thrashing to. I also played drums in Melbourne punk band Fish during that time too, rad days. Come about 82/83 we built a half pipe at Bens house, a bit bigger with a large deck sporting a couch and a roll in and skated the shit out of the thing. Around that time I got my first job and my first pay got me 2 pair of Tracker ex-tracks, second pay got me 8 Ozi wheels (Tim, the legend behind Ozi went on to become Cockroach, then Cozmo inline and Cortech/Electro/Point Blank, all way ahead of anything at the time) and a pair of second hand ice skates and built my first self made skates. Those skates lasted me through to the early 90's, Sessioning Mordialoc, Doncaster, Middle Park quarter on the dunny roof and a couple of backyarders, though by 86 I had got my License and was into Rallying and had met my now wife Tammy and skating kind of sat in the background for a couple of years. Through Ludi I got hooked up by a shop for Inlines in the early 90's and demo'd and competed around the place till the end of the century where I just lost interest in the whole inline scene. I skated with some very talented skaters during this time, one of them being my good mate Tom Fry, the most talented inliner ever to grace this planet, in my humble opinion. We would be driving to a ramp and I'd tell him about a new trick I'd come up with and he'd say "I've done that" with a big shit eating grin on his face cos we both knew he hadn't but he would pull it first bite anyway, he was just that good. I learnt a lot on inlines but always skated with a heavy skateboarding influence, always skating definite frontside and backside, something that seems to be uncommon among parallel skaters. So kick forward to 05 and I sign up on www.charliedontskate.com to see what's been happening in the skate world and maybe source some midtrackers and I start to get itchy feet. Come 07 and I see a photo of Ludi airing in a bowl and I get very exited. So I get some high top rugby boots, 2 sets of midtrackers and a couple of sets of Cortechs and build up a set of skates with some cutting board for sliders. I rolled up to The Shed indoor skatepark for my first skate in 8 years, pulling on my skates and Ludi walks in for a sesh. I was stoked to the eyeballs and we sessioned every Friday night there till they closed it down in late 08.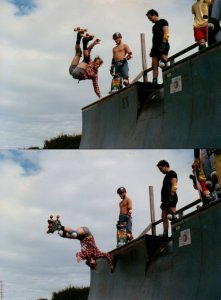 Rider: Joe90
Spot: Mordialoc
Date: 1988
Trick: Layback Air and Miller-Flip
Photographer: Bruce Farley

I changed to a pair of ice hockey boots next, then I updated to Grind King minis with Cortech Photons, Rockin Rons and a cut down set of roces LAX boots (thrown out by my brother inlaw). The plate/slider setup I've been using over these last couple of setups is aluminium channel with cutting board sliders attached to the edges of the channel. My current setup is Goalie boots with Grind Kings, R/Rons, Rainskate wheels and the same style plates as the last setup, nice but my faves were the LAX's. Ludi and me skate with the MOSS crew (Melbourne old school skaters) these days, a rad bunch of doods from back in the day and it looks like Jomby is getting fired up again too. Good friends, punk music, 2 beautiful daughters, a gorgeous wife and still skating hard, I have absolutely nothing to complain about, although a bit more time to skate would be good.

Collingwood skate City reminds me of an indoor park we had in an old US army cinema in Lahr ...

How does your family take to your skating? Anyone else on wheels in the family? How about the competitions? I remember some funny names like SOS jam and MOSS jam, what about this all?

The Australian roller skate scene seem to be pretty well connected and relaxed, What can you tell us about the roller skate scene down under? Is there any fresh blood in the Australian roller skate scene?

The girls have got boards, inlines and rollerskates but aren't really that fired up on skating. They have a roll every now and then but get around on scooters mostly. I'm happy they get out and have fun and don't sit in front of a screen all day. Tammy was into rollerskating before I met her and after a while she was starting to have a roll on ramps. Sadly she snapped her wrist on her first drop in and never tried trany again. Every now and then we go for a family roll and my eldest daughter Taylor is having her 13th birthday at a rollerskate rink next week. As for comps, I love em. I'm not at all competitive, I just dig hooking up with everyone for a big sesh. MOSS jam and SOS (Sydney Old School) are a fugin blast, I get to roll with mates from all over Oz, and the level is pretty hot considering juniors are 30 and 40–50 is the bulk of the jam. The MOSS jam was and still is organized by Wedge Francis, the first Oz skateboard champion who, for the past 5 odd years has organized it as a fund raiser for a water project in Swaziland. Last years jam supplied and plumbed a water tank to a village, supplying clean water for many families, how cool is that. The roller skate scene hear is about 6 strong nearest I can tell with Rollerball being the most consistent roller, not switching to inlines for a spell like me and still ripping hard. Ludi, possibly Oz's first vert roller had a 20+ year break but has come full circle and is hugely involved and ripping again. Beanstalk had a fair brake too but is tearing it up again and pealing off some amazing photos too. Matt from Sydney has a roll every now and then with Rollerball and rides nice too, and Karen, a local Frankston mum is rolling with the MOSS crew now and then too. That's pretty much the roller scene in Oz as I know it. I don't see much chance for new blood as you have to build your own skate to roll vert and it's just easier to buy inlines. I gotta say, after riding both, there really is no substitute for trucks, in my opinion.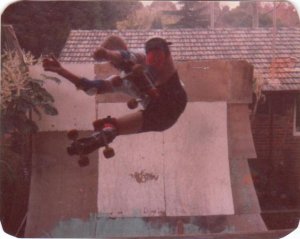 Rider: Joe90
Spot: Ben's Ramp
Date: 1983
Trick: Frontside Air
Photographer: Jomby
What about injuries? Which was your worst one? Which was your most exciting moment in roller skating? Any finishing thought?
I've gotten away pretty easy injury wise, I did hang my heels up on a fakie air once and half KO'd myself, made my ears bleed too. I hung up and smashed my hip on a handrail once and spent the next few weeks having to double over and twist to the right so I could sneeze or cough without passing out in agony, that was pretty shit. I slid out at the SOS jam a couple of years back and smacked my coxic pretty hard, got up for a leak that night and passed out mid stream. Both my shoulders, right wrist, right hip and left ankle play up when it's cold, all skate injuries that I never stopped skating long enough to let heal properly but I still feel like a kid when a sesh is on. It's mostly fitness that holds me back these days.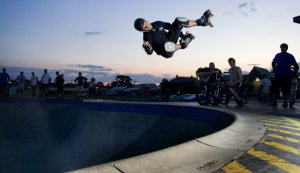 Rider: Joe90
Spot: Frankston Bowl
Date: 2010 March 16
Trick: Stale Air
Photographer: Troy Slater
I've genuinely had way too many exciting skate moments to narrow it down to one but I do remember being ecstatic rolling up to The Shed for my first sesh in 8 odd years (first on rollerskates in 17) and Ludi rolling up for a sesh too. I hadn't seen him in quite a while so was stoked. I remember feeling a bit weird with my first couple of runs on the mini as it just felt really wrong so we jumped on the vert ramp and I was airing and handplanting by the second run. Made me laugh later as I remembered I was always shit on mini's anyway.
Rider: Joe90
Spot: Vertmont
Trick: MacTwist
Photographer: Troy Slater
I'm 42 and have been a skater my whole life. I'm ever grateful to my brother Jomby for building my first board, Ludi, Ben and Jomby for being a huge influence on me and my skating and for the ramps we built together, and my buddy Glenn, world class drummer, eccentric inventor and supporter of all things rad, a dood who I can't ever remember stepping on a board or skates, who has just got into speed skating (and possibly a bit of ditch action soon) at the age of 44. Most of all, I'd be lost without my girls, Tammy, Taylor and Amy, completely blow me away on a daily basis for so many reasons. Big thumbs up to any and all skaters who just dig the roll.
---
Last Update: